EEOICPA Health Benefits
The "White Card"
Those who apply for the Energy Employees Program (EEOICPA) and are awarded medical benefits will be issued a "white card" (pictured side).
Similar to a standard insurance card, whenever you receive medical care related to an accepted illness, you will show this card to have the costs covered under the EEOICPA entitlement.
Accepted illnesses are listed on the front of the card and designated by numbers. The card can cover a wide variety of medical services including in-home care.
Issuing Coverage
White cards can be issued under both Part B and Part E of the EEOICPA entitlement. To learn more about these benefits, eligibility and how to apply please visit the benefits page.
Available Benefits
Doctor's Visits & Copays
Prescription drugs
Special equipment as prescribed by your physician
Durable medical equipment
Any health or gym facility membership
Home exercise equipment
Organ or stem cell transplants
Medical documentation retrieval
Nursing home or assisted living facility
Hospice care
Psychiatric treatment
Chiropractic treatment
Acupuncture treatment
Find EEOICPA approved medical providers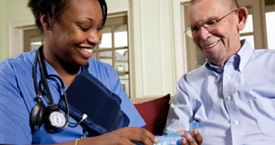 Energy Workers' Home Care
Get No-Cost Home Health Care!
Need in-home medical assistance? Remain at Home is a proud to serve nuclear workers under EEOICPA. Call us today at (800) 718-5658 or use the form below!