Need to find an Impairment Doctor?
Call the number above to get connected with a qualified doctor right away!
What is an impairment rating?
If you have been approved under Part E, of the Energy Employees Compensation Program (EEOICPA) you are eligible to receive further monetary compensation through an impairment rating. An impairment rating is compensation for any degree of permanent function loss of an organ or body part caused by your "accepted illness(s)."
In order to be considered permanent the condition must reach the maximum medical improvement (MMI). Essentially, if a condition has met MMI it means the condition is well-stabilized and very unlikely to improve with further medical treatment i.e. permanent.
Important points to consider:
Impairment ratings can be done every 2 years
An initial impairment rating must be done within 1 year of the date your claim was received by the Department of Labor to be eligible for reimbursement
Department of Labor will pay for tests to obtain an impairment rating
A new impairment evaluation can be requested any time a new illness is accepted
Visual chart showing number of weeks compensation payable for scheduled and non-scheduled permanent partial disabilities. Click image to
enlarge and see the full details
.
How much compensation can I receive?
The amount of compensation is tied to the level of impairment. For every 1% of permanent impairment, you receive $2,500. Doctor's will look at all affected areas of the body and determine impairment percentages on each individual organ or body part. They then combine the impairments to determine a whole body rating which will be the basis for payment.
Find Impairment Doctors: (800) 718-5658!
For example, if your whole body impairment rating is determined to be 45%, that would result in a payment of $112,500. (45% X $2,500) = $112,500.
Part E of EEOICPA allows a maximum compensation amount of $250,000 per claimant. This includes impairment ratings and wage loss benefits. Any approved medical expenses are NOT subject to the $250,000 maximum and will be paid with no maximum.
Can My Doctor Perform An Impairment Rating?
Most doctors would not be recognized by the Department of Labor. The Department of Labor requires a physician who is:
Board-certified in the medical specialty relevant to the covered illness; and
Trained and certified to perform impairment ratings using the AMA's Guides to the evaluation of Permanent Impairment, or experience in using the Guides.
The Department of Labor doesn't reimburse the cost of impairment ratings with unqualified physicians.
Connect with qualified physicians by calling (800) 718-5658!
Useful Links:
More questions? Call us (800) 718-5658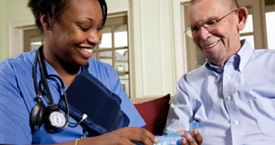 Energy Workers' Home Care
Find Local Impairment Doctors
Call us today at (800) 718-5658 or use the form below!
View Testimonials