EEOICPA Frequently Asked Questions
What is EEOICPA?
The Energy Employees Occupational Illness Compensation Program (EEOICPA) was enacted by congress to compensate workers who became sick due to their involvement with the production of nuclear weapons primarily during the Cold War era. EEOICPA is an entitlement program that provides both lump sum payments and medical benefits to sick energy workers or their survivors. Currently, the program has paid out over $10 Billion in claims.
Who is eligible?
Generally, anyone who worked at a recognized Department of Energy nuclear facility (employees, contractors & sub-contractors) and became sick due to their exposure to radiation or hazardous chemicals may be eligible for compensation. Surviving family members may also be eligible for lump-sum compensation. There are multiple benefits one might be able to claim including compensation under the Radiation Exposure Compensation Act (RECA) or benefits under parts B and/or E of the Energy Employees Occupational Illness Compensation Program (EEOICPA).
How do I start a claim?
All the necessary forms to file a claim can be found on the Dept. of Labor's Website.
The most important factors when filing a claim are verification of employment and proof that exposure to radiation or hazardous chemicals caused your illness.
For Help with filing an EEOICPA claim:
Call Dept. of Labor toll-free call center: 1-866-888-3322
Contact your nearest DOL District Office
What is a Special Exposure Cohort (SEC)?
Special Exposure Cohort (SEC) is a designation given to specific work sites or groups of workers that allow them to be compensated without having to prove a link between their exposure and illness. Those who qualify for SEC have a much better chance of a fast and successful claim. To qualify for SEC one must have:
What is a "White Card" and how do I get it?
Those who apply for the Energy Employees Program (EEOICPA) and are awarded medical benefits will be issued a white card. Similar to a standard insurance card, whenever you receive medical care related to an accepted illness, you will show this card to have the costs covered under EEOICPA. The card can cover a wide variety of medical services including home nursing care.
What does the medical benefit cover?
For living workers struggling with illness EEOICPA medical benefit will provide full medical coverage under part B and/or E for any medical expenses caused by the exposure related illness. For example, if a worker's approved diagnosis was cancer due to radiation exposure and the treatment of that cancer caused diabetes, all treatment related to diabetes will also be fully covered under the benefit. If the diabetes was determined to be unrelated to the cancer then the diabetes would not be covered. Workers can also request repayment for any medical costs from the date upon which they file their claim till the claim is accepted.
What types of medical services are covered under Part B or E?
This is a general list of the many medical services covered under Part B and/or E. All services must be recommended by a doctor and related to a worker's primary diagnosis.
Doctor visits and co-pays
Hospital Stays
Medication
Hospice Care
Spa Membership
Chiropractic and Massage Services
Medical Equipment (oxygen, hospital bed, etc.)
Do all doctors and medical providers accept the Dept. of Labor's white cards (EEOICPA)?
No, only certain doctors and providers are registered to accept EEOICPA health benefits. You can check the Department of Labor's billing website and search for eligible providers near you. You can also ask your doctor to enroll with the Office for Worker's Compensation. For more help with getting doctors enrolled or finding providers please contact us at (706) 254-2000.
What is the cost of home health care?
There is absolutely no cost for home care as long as the care is ordered due to your primary diagnosis. From a simple drop-in visit to 24-hour nursing care 7 days a week, medical benefits under EEOICPA cover the full cost of home care. Learn more about RAH's home care services.
Why choose Remain At Home as your in-home care provider?
RAH Workers Care was specifically created to help energy workers under EEOICPA
Fees for our services are completely absorbed by the Department of Labor; no co-pays or deductible
We manage paperwork and all necessary documentation for submission
We work in-tandem with your local physician(s)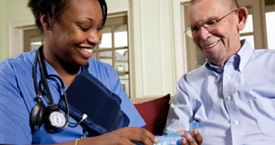 Get No-Cost Home Health Care!
Need in-home medical assistance? Remain at Home is a proud to serve nuclear workers under EEOICPA. Call us today at (800) 718-5658 or use the form below!