Using ACS to Find EEOICPA Medical Providers
The Department of Labor keeps a database of all medical providers who are enrolled in the Energy Employees Occupational Illness Compensation Program. While the information in the database isn't always the most up to date, it's still a great place to start your search.
Okay, now let's learn how to use the EEOICPA database…
The ACS Homepage
Navigate directly to the provider search page on the ACS site. Before getting to the search page you'll need to first accept the terms of their "Agreement".
Next, choose "DEEOIC" from the Program drop-down menu.
Using the Database
Now let's search for providers.
It's best to start with a broad search and then narrow it down if you are getting too many results. We recommend starting by entering only the "Provider Type" and "State" fields. If your search comes back with too many results try the "City" next.
The "Zip Code" and "Specialty" fields are likely to limit your search too much and should be used as a last resort. If you can't find any providers, try neighboring states or give us a call at (800) 716-5658 and we can help you out.
By Brian Carrigan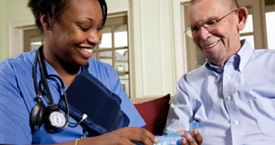 Get No-Cost Home Health Care!
Need in-home medical assistance? Remain at Home is a proud to serve nuclear workers under EEOICPA. Call us today at (800) 718-5658 or use the form below!
Testimonials
"…the feedback that I have received from our patients has been overwhelmingly appreciative for the quality of care and compassion your staff has provided… Keep it up!"
-Mark R. Firth, MD
Internal Medicine
"No words will ever express our sincerest appreciation for all you did to assist with our father's needs during his remaining days…RAH went above and beyond our hopes and the staff you assembled to care for him was truly amazing!!
-C. Stewart-Staudigl
Client Family
Summary
"Name of Article"
How to Find Doctors and Medical Providers Who Accept EEOICPA
Description
Brian Carrigan is founder and CEO of Remain At Home Health Care. He frequently writes and speaks on senior related issues.
Author