Learn about compensation and benefits for sick workers.
Portsmouth Gaseous Diffusion Plant
Following the end of World War II the need for nuclear security rose as more countries became capable of nuclear weapons production. In April 1952, President Truman moved to expand the United States' nuclear capabilities with a bill to build a new diffusion plant in the state of Ohio. Goodyear Atomic Corporation was awarded the operating contract and with barely any pre-planning construction began later that year on a 3,714 acre site, 30 miles north of Portsmouth, Ohio.
Uranium Production
With 2,500 barrels of cement being laid daily and using over 100,000 tons of steel, construction of PORTS was completed in less than 4 years by 1956. However, by 1954 enough of the plant was operational to begin production. Much like Portsmouth's sister sites in Paducah and Oak Ridge, the primary purpose of the Piketon Plant was to enrich weapons grade uranium through gaseous diffusion. The site was epic in scale with 11 enormous cooling towers utilizing 689 million gallons of water daily to cool the enrichment process.
Clean-up & Decommissioning
Like most major nuclear weapons sites across the United States, many of the toxic and radioactive byproducts from producing such powerful weapons were improperly disposed or stored. In 2005 the Department of Energy contracted LATA/Parallax Portsmouth, LLC, to being environmental remediation of the site.  According to the NCSL PORTS has approximately 2.2 million cubic yards of hazardous wastes and 415 contaminated facilities. Clean up of the site is still underway with plans to eventual utilize the land for nuclear energy production.
Compensation for PORTS Workers
Former Portsmouth Plant employees who have become sick from their work (or survivors) are eligible for up to $400,000 in compensation. Health benefits are also available to employees under Part B and Part E of the Energy Employees Occupational Illness Program Act (EEOICPA). The Department of Labor has also granted Special Exposure Cohort status to those who worked at the site for at least 250 consecutive days before February 1, 1992.
Have Questions?
Call us: (800) 718-5658
Learn more about EEOICPA in-home health care for Portsmouth Plant Workers.
More information and useful links
Other Ohio Nuclear Weapons Sites & Contractors
Alba Craft
Ajax Magnathermic
Associated Aircraft Toll and Manufacturing
Baker Brothers
B + T Metalas
Battelle Laboratories
Beryllium Production Plant (BRUSH)
Brush Beryllium Co. – Cleveland, Elmore, Lorain
Cincinnati Milling Machine Co.
Copperweld Steel
Dayton Project
DuPont – Grasselli Research Laboratory
Extrusion Plant
Feed Materials Production Center
General Electric Company
Gruen Watch
Harshaw Chemical Co.
Herrine-Hall Marvin Safe Co.
Horizons Inc.
Kettering Laboratory University of Cincinnati
McKinney Tool and Manufacturing Co.
Monsanto Chemical Co.
Mound Plant
Piqua Organic Moderated Reactor
R. W. Leblond Machine Tool Co.
Tech-Art Inc
Tocco Induction Heating Division
Vulcan Tool Co.
By Brian Carrigan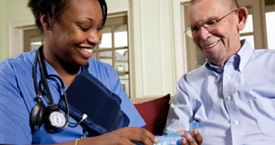 Get No-Cost Home Health Care!
Need in-home medical assistance? Remain at Home is a proud to serve nuclear workers under EEOICPA. Call us today at (800) 718-5658 or use the form below!
Testimonials
"…the feedback that I have received from our patients has been overwhelmingly appreciative for the quality of care and compassion your staff has provided… Keep it up!"
-Mark R. Firth, MD
Internal Medicine
"No words will ever express our sincerest appreciation for all you did to assist with our father's needs during his remaining days…RAH went above and beyond our hopes and the staff you assembled to care for him was truly amazing!!
-C. Stewart-Staudigl
Client Family