Learn about compensation and benefits for sick workers.
Iowa Army Ammunition Plant
The IOWA Ordnance Plant or IOWA Army Ammunition Plant (IAAP) started production in 1941 to produce tank and artillery ammunition near Middletown just outside of Burlington, Iowa. The Middletown Plant consisted of 767 building, 282 igloos, and over 240 miles of roads and rails. Over 40,000 civilians have worked at the Burlington Ordnance Plant.
A Secret Plant
Following the end of WWII, the site was promptly shutdown until recommissioned in 1947 by the Atomic Energy Commission. Veiled under the guise of "Ammunition Plant," a portion of the plant known as Line 1/Division B would now be utilized for assembly, modification, and testing of nuclear weapons.
Burlington Atomic Energy Commission Plant (BAECP)
From 1949 to 1951, the Middletown factory was the nation's only nuclear weapons assembly plant. During this time period the plant was known as the Burlington Atomic Energy Commission Plant (BAECP). In 1975, the plant's nuclear responsibilities were transferred to the Pantex Texas. The army resumed control of the Iowa Ordnance Plant.
Exposure acknowledged
Unfortunately, many of the workers who served our country at IAAP were also unknowingly exposed to unsafe levels of radiation and toxic chemicals. Recognizing the dangerous work conditions, in 2001, President Clinton signed the Energy Employees Occupational Illness Compensation ACT (EEOICPA) granting sick nuclear weapons workers free testing, compensation and medical relief.
Compensation rewarded
Iowa Ordnance Plant, Line 1 employees are currently eligible for special exposure cohort status (SEC). SEC is a designation given to specific work sites or groups of workers that allow them to be compensated without having to prove a link between their exposure and illness.
Those who qualify for SEC have a much better chance of a fast and successful EEOICPA claim. Workers can still apply for compensation under the dose reconstruction if they do not meet the SEC criteria.
To qualify for SEC one must have:
Worked at the Iowa Ordnance Plant between 1949 through 1974, for at least a total of 250 work days. If you accumulated work days at other SEC designated sites or groups those days may also be counted towards the 250 days
Been diagnosed with one of 22 specified forms of cancer
Medical Screening Program?
Medical screenings are provided at no cost for former IAAP workers. It's strongly recommended former workers get consistent medical screenings.
According to the Former Worker Medical Screening Program…
Who qualifies for the medical screening?

Individuals who worked for or in the vicinity of Line 1 from 1949 to 1975 are eligible:

those directly involved with AEC/DOE production operations
guards on surveillance duty
laundry personnel who handled contaminated clothing
cafeteria staff
various tradespersons
delivery and storage personnel
contractors
sub-contractors
IAAP employees who were involved in ongoing construction and maintenance activities
those who worked in the rail and storage yards, burning fields and demolition areas, including Yards C, G, and L; Firing Site Areas, Burning Field "B" and Storage Sites for Pits and Weapons, and Buildings 73 and 77

Regardless of how long or short the employment period was or the former worker's current health status, all who worked for or in the vicinity of Line 1 from 1949 to 1975 are eligible for the free FWP medical screening.
Have Questions?
Call us: (800) 718-5658
Learn more about EEOICPA in-home health care for Iowa Ordnance Plant Workers
More information and useful links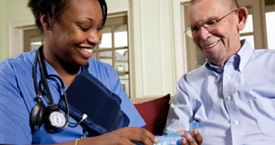 Get No-Cost Home Health Care!
Need in-home medical assistance? Remain at Home is a proud to serve nuclear workers under EEOICPA. Call us today at (800) 718-5658 or use the form below!
Testimonials
"…the feedback that I have received from our patients has been overwhelmingly appreciative for the quality of care and compassion your staff has provided… Keep it up!"
-Mark R. Firth, MD
Internal Medicine
"No words will ever express our sincerest appreciation for all you did to assist with our father's needs during his remaining days…RAH went above and beyond our hopes and the staff you assembled to care for him was truly amazing!!
-C. Stewart-Staudigl
Client Family