IAM Union Members Could Be Eligible
Energy Employees Occupational Illness Compensation Program
Over 95,000 Workers, $10.6 Billion in Compensation Awarded
Where did you work?
To help workers becoming sick from their employment at nuclear weapons production plants across the United States, congress created the Energy Employees Occupational Illness Compensation Program Act (EEOICPA).
Machinist members may be eligible for up to $400,000 in tax-free payments and medical coverage. A lot of workers still haven't heard for the EEOICPA program despite over $10 Billion in claims being paid as of 2014.
Criteria for Eligibility
International Association of Machinists members who were employed at a recognized nuclear production Department of Energy facility (employees, contractors & sub-contractors) and became sick due to a work-related illness may be eligible for compensation. Survivors of deceased workers may also be eligible for compensation.
Medical Benefits and Compensation
The Energy Employees Compensation Program (EEOICPA) has two separate benefits programs:
Part B

$150,000 lump sum, tax-free payment
Workers can also receive a variety of medical benefits to help cover costs associated with their illness
For deceased workers, surviving family members are eligible for $150,000 and old medical bill compensation

Part E

Up to $250,000 for living workers based on impairment ratings and wage-loss compensation
Living workers will receive full medical benefits for treatment of their work-related illness
Survivor claims are eligible for $125,000 to $175,000 & coverage of past medical bills
**You can file a claim under both Part B & E with a maximum total payout of $400,000. There is no limit on reimbursement for medical expenses
For More Information Please Call: (800) 718-5658
Remain At Home is a Dept. of Labor Authorized EEOICPA Home Health Care Provider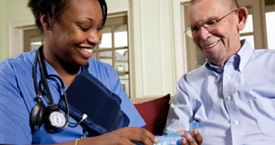 EEOICPA Home Health Care
Testimonials
"…the feedback that I have received from our patients has been overwhelmingly appreciative for the quality of care and compassion your staff has provided… Keep it up!"
-Mark R. Firth, MD
Internal Medicine